Post by Summer Ridge Stables on Dec 22, 2012 13:15:44 GMT -5
Summer Ridge Stables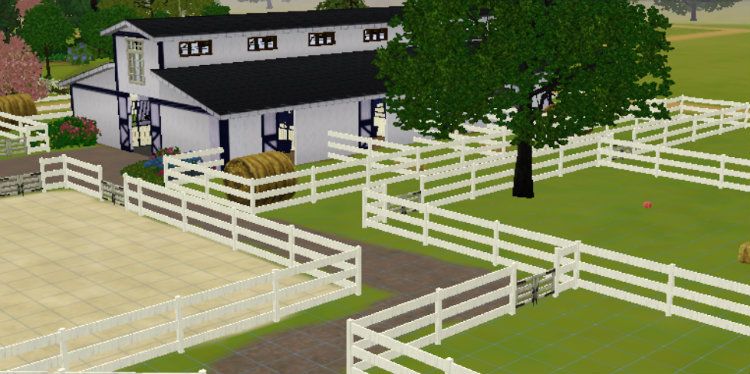 View of the current QH Stables.
About Us
Here at Summer Ridge Stables, we breed top quality Quarter Horses, Paint horses, Appaloosas, Hanoverians, and Thoroughbreds. Our horses excel in all western and english events.
Owner(s) • Nicole Summers, Chase Summers.
Services • Breeding, Training, Performance Horses, Selling, Showing.
Biography
Although a new establishment, we are very excited to bring you the best horses we can. Our main focus are Quarters and Hanoverians, dabbling in Thoroughbreds (for racing), Paints, and Appies. We hope you enjoy our facilities!
Reception
Contact • summerridgestables.sims@gmail.com
Address • Avalia Valley (No addresses in this world)
Location • Avalia Valley
Stable's Website •
summerridge.weebly.com/
(Site under construction)
Staff Members
Nicole Summers, 23, Owner and Trainer.
Been around horses all of her life and has ridden and trained many disiplines, from hunters to cutting horses. She can take a totally wild horse and in a matter of weeks, turn it into the calmest, safest horse. She is the proud owner of Summer Ridge Stables, along with her husband Chase. Her and Chase inherited the small portion of the farm from her parents, when it was just small pleasure horse barn. Her and Chase expanded to a huge working facility.
Chase Summers, 25, Owner/trainer.
Chase has also been around horses all of his life. He specializes in western performance horses and rodeo. Have a horse with a bucking issue? He's your guy. All of the problem horses sent to Summer Ridge mostly go to Chase.
Annie Stewart, 18, Trainer/Rider.
Annie was hired a year ago to help ride and train the farm's hanoverians. She specializes in hunters/jumpers and eventing. She has a lot of experience with horses and has trained champions at other farms, even at a young age.
Facility
Establishment Value •
Capacity • We have a barn for every breed, and a few extra barns. In total we have
Amenities
(examples below)
• # 300 Acreas
• # On Average, we have 8 stalls per barn, but we have many barns.
• We have 8 tack rooms. About one per barn.
• # 2 per barn
• # Grooming bays
• Main office/clubhouse
• We have around 8 arenas, including regular sand arenas, cross country courses, hunter arenas, grass jumper arenas, and round pens.
• Dressage, Hunter Ring, Jumper ring, racetrack.
Stewardship
Visitation
(examples below)
• Vet Every 6 months, worming every 8 weeks.
• Farrier every 8 weeks.
Tack Room
(examples below)
• Quarers, Paints, and Appies all have their own western training bridles, training saddles, show bridles, and show saddles, along with show and training pads, wraps, boots, and also a stable and winter pasture blanket. They also each have show halters and around the farm halters.
• Hanoverians have their own all purpose training saddles and all purpose bridles for training, and then individual tack sets for shows (dressage, jumping) They all have polo and splint boots as well, and show halters and farm halers. They also have stable and pasture blankets.
• Thoroughbreds all have lightweight training saddles and bridles, and lightweight racing saddles for races. They also have saddle blankets with their numbers and themes, as well as a racing bridle for each, stable and pasture blankets, and show and farm halters.
Feed Room
(examples below)
• 4 Bags of Concentrate Moderate Work Grain
• 4 Bags of Concentrate Heavy Work Grain
• 2 Bushels of Organic Apples
• 2 Bushels of Organic Carrots
• 4 Bags of Senior Feed
• 3 Bags of Yearling Feed
• 6 Bags of Triple Crown TB Feed
• Stall Shaving bag
• Suppliments
**We do not have any horses yet. I am trying to limit the number of foundations, so I am working on sending in applications for foals. A lot of people like for the applicant to have an approved membership, hense why I am trying to get my farm approved earlier then I thought.**
Thanks for reading!!!!